Camsoda:
You can filter camgirls by token per minute on camsoda. On Camsoda the cheapest private chat rooms start at 6 tokens per minute which is equivalent to around $0.53 US per minute. As you can see below, by hitting the "private" button of this beautiful busty camgirl, you discover that she charges 6 tokens per minute for private shows. You can also filter camgirls who charge 12 or 18 tokens per minute which is equivalent to $1.06 / minute and $1.53 / minute. It still really cheap compared to other camgirl websites. This allows you to attend one of the cheapest live adult shows of the web.
Click here to join camsoda for free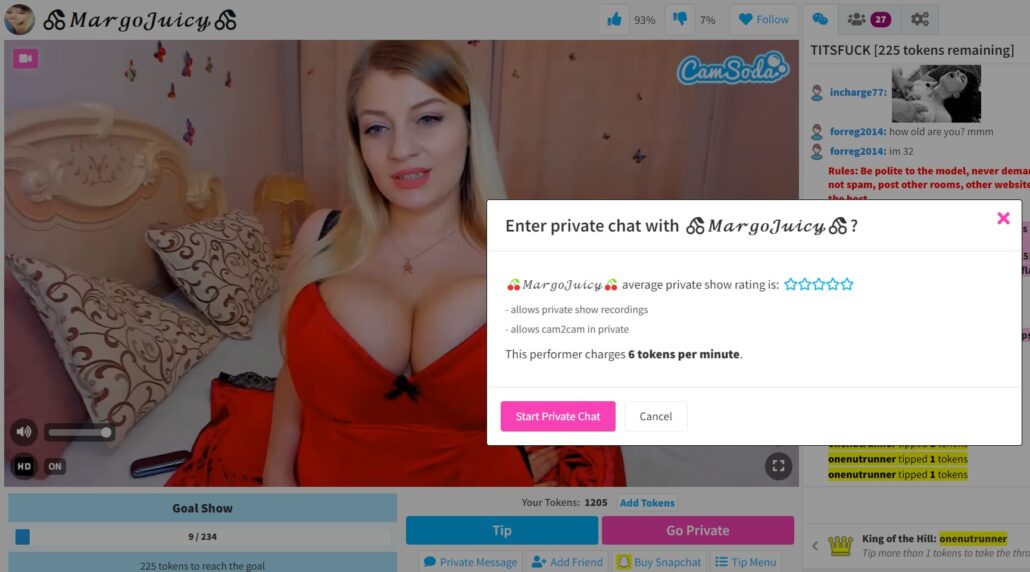 Stripchat
On Stripchat, you can filter camgirls by the price of their private chat session. It starts at 8 tokens (around 0.75 US dollars), second cheapest category is 16-24 tokens. (1.48 to 2.25 US dollars per minute). Once you click on the 8-token category, it will return all camgirls who charge 8 tokens per minute for a private chat session. Once, again, it makes these live shows very cheap. Note that Stripchat private shows are all exclusive meaning that no one else can enter the chatroom and interact with the camgirl via text messages.
Click here to join Stripchat for free
Be aware that sometimes on stripchat, camgirls force their guest to buy several minutes of private show/chat in advance. So, be careful before you get in a private chat room. Read the information on the pop up window first.
Camcontacts
This camgirl website also has cheap private chat rooms. Usually it starts at around $1 per minute. Be aware that other people can enter the private chat room in the cheapest mode of camcontact (open session). They can interact by text messages with the camgirl. However, the open session mode is useful to check if the camgirl matches your requirements and if she wants to perform a naked show for instance.
Click here to join camcontact for free